Scandal rocks the Detective Branch - The Trial of the Detectives
In 1877, the small detective department at Scotland Yard was rocked to its foundations by the arrest and trial of no fewer than four of the five most senior officers.
The story started in Paris when Madam de Goncourt surprised her lawyer by asking for no less than £30,000 for horse racing bets in England. She had been taken in by a fraud perpetrated by Harry Benson and William Kurr who maintained that their horse racing betting system was so good that no bookmaker in England would take their bets!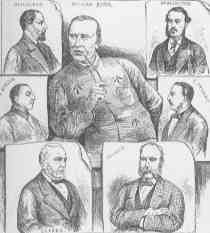 The main characters involved
Part of their successful operation was their ability to avoid arrest by means of prior warnings from Inspector Meiklejohn, and Chief Inspectors Clarke, Druscovich and Palmer, who later stood trial for corruption.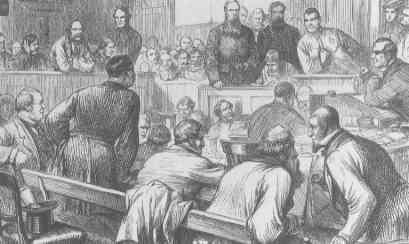 William Kurr gives evidence against the detectives in court
The case not only caused great shock and outrage, but also led to the reorganisation of the Detective Branch into the Criminal Investigation Department (CID).