The Brighton Trunk Murders 1934
On the 17th June 1934 William Joseph Vinnicombe, a cloak room attendant employed by the Southern Railway at Brighton Railway Station, noticed an offensive odour in the cloakroom and called Detective Bishop of the Railway Police who opened a trunk which contained parts of a human body.
The Chief Constable of Brighton called for assistance from Scotland Yard and the Metropolitan Police sent down Chief Inspector Robert Donaldson.
Donaldson questioned Henry George Rout who had received the trunk but he could not remember the depositor.
On 18 June another trunk had been discovered at Kings Cross Station in similar circumstances, and it contained two limbs. Very few clues were available and the victims could not be identified until a press reporter informed police about Violette Kaye, aged 42, a known prostitute in the Brighton area who was missing. A man named Tony Mancini, a 26-year old waiter and convicted thief, had been associated with her.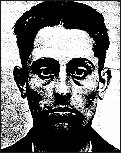 Mancini @ Notyre
Donaldson interviewed Mancini (alias Notyre, but his real name was Cecil Lois England) and released him, but later took the precaution of having his lodgings checked at 52 Kemp Street. A large black trunk was discovered at Kemp Street, and this contained the body of Violet Kaye. There had been complaints about the smell in his room. Mancini was arrested on 17 July by two Metropolitan Police Constables of R Division who found him, observed him in the Eltham Road, Lee area of south east London and arrested him.
Mancini appeared at Lewes Assizes defended by the famous barrister Norman Birkett. The famous pathologist Bernard Spilsbury gave expert forensic evidence against him, but the prosecution failed because of doubts about whether he concealed Violette Kaye's body after she had already died or not. He had claimed that he had found her dead when he returned to their lodgings, and thought the police would not believe him as he had a criminal record, so he decided to keep the matter a secret and placed her in a trunk! A 1976 Sunday newspaper reported him admitting responsibility for the death, however!
As for the body in the trunks at Kings Cross and Brighton railway stations (known as Brighton Trunk Crime - Number 1) the case was never solved, and there was no evidence linking Mancini to this other murder.